Duello Armizare Online Learning
Duello Armizare is based on the ancient teachings of the Italian Masters and developed over more than 30 years as a revived and unified system of weapon and unarmed martial art. Duello Armizare provides a cohesive methodology for learning and teaching combat with the rapier, longsword, sidesword, spear, poleaxe, dagger, and more with a focus on healthy and powerful body mechanics, tactical and strategic control.
Visit DuelloArmizare.com to learn more about the art, its precepts, and to access both live and online workshops and training content. Access over 400 free and paid online lessons for students and teachers, webinars, live intensives, seminars, and private instruction.
Swordplay Masterclass
A six-week at home intensive in the art of the Italian Longsword available in both live-online sessions and as a self-paced course. Learn:
Six solo forms that contain and unlock the art of the longsword from attacks to defenses to strategy.
Healthy and powerful body mechanics for striking and defending with strength and precision while maximizing joint health.
Defending and controlling in the wide and narrow play (gioco stretto and largo).
How to unlock and understand historical manuals.
How to control the centre and make fighting more predictable and controllable.
The code for successful combative strategy including entering, provoking, striking safely (without double hitting), and exiting.
Combat analysis from sizing up your opponent to conditioning effective tactical responses.
Plus bonus sessions on:
How to build an effective at home training environment for any sized space.
Investigating and breaking through the mental and emotional blocks to successful martial arts training.
How to create training goals and habits that work.
German Longsword, delivered by world renowned instructor Christian Tobler.
Mounted Combat, the fundamentals of fighting from horseback by Jennifer Landels.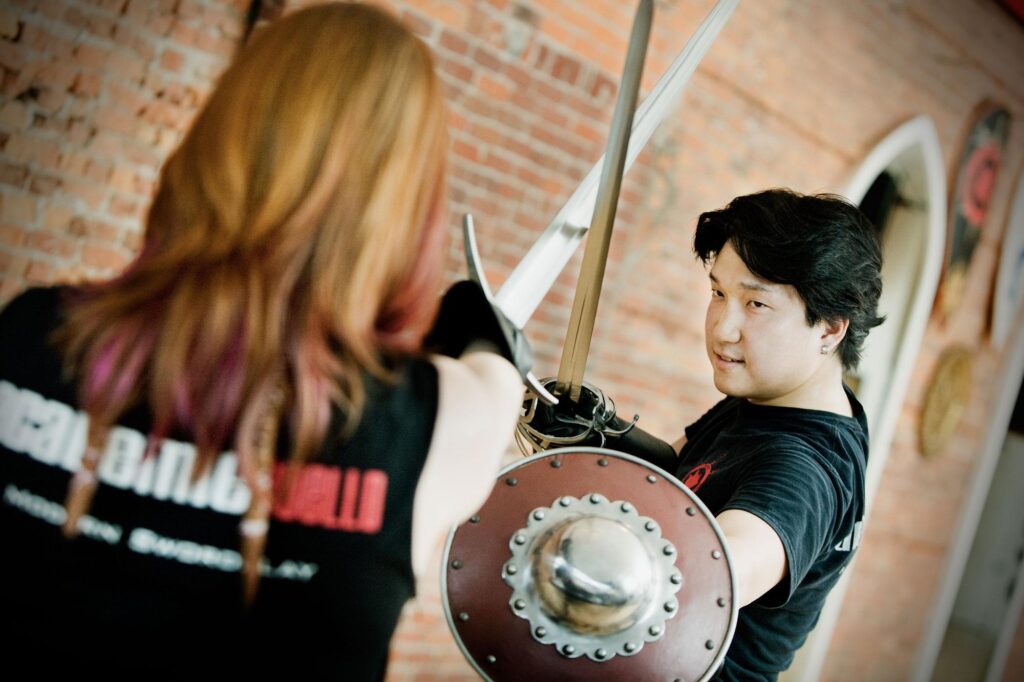 Academie Duello International Centre for Swordplay
Academie Duello in Vancouver, Canada is the largest centre of its kind devoted to the study of European Martial Arts and sword disciplines from around the world. Classes and workshops are offered on a weekly basis and the historical arms and armor museum and pro shop are open to the public.