The Unique Strength of the Sword & Buckler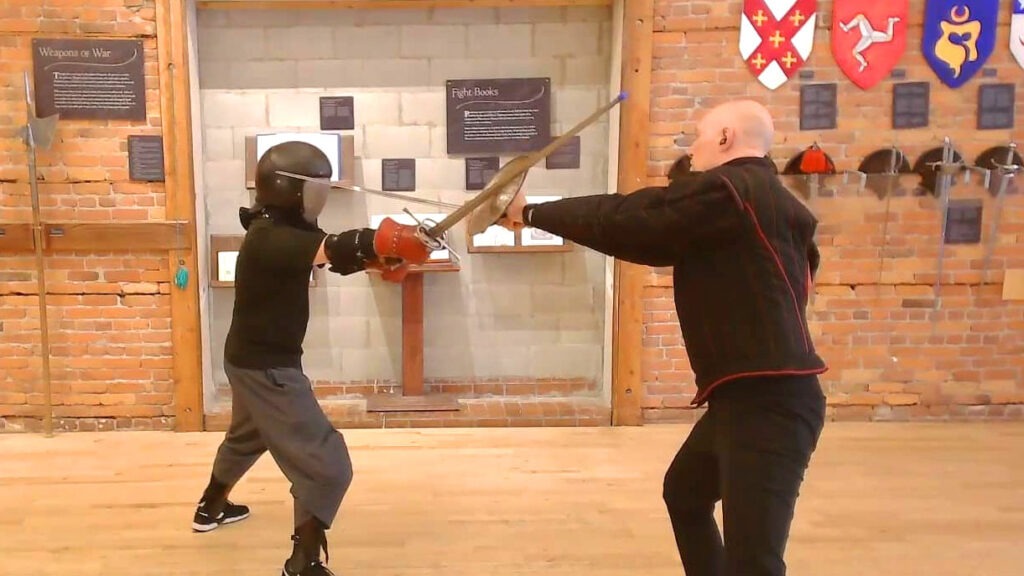 The new Longsword vs Sword & Buckler course is live on DuelloTV and as part of the festivities I'm taking some time in these posts to explore the unique powers (and weaknesses!) of each of these disciplines both in facing each other and in meet-ups with other weapons. Let's dive in!
The power of the sidesword and buckler (small shield) is their ability to 1) match the control and dexterity of the sword with 2) the broad protective cover of the shield. Yet to really have this power they need to be used in an intelligent and unified fashion.
Unification is Key
The wrong way is to simply use the shield as a blocking device and the sword as a striking device. Systems that take this rudimentary approach are exceedingly easy to defeat (in fact we explore that in the opening lesson of the course). Shields are incredibly easy to deceive and outmaneuver, and if you're splitting your combative attention between your shield and sword you'll tend to be rhythmically alternating between attack and defense which makes you easy to predict and counter.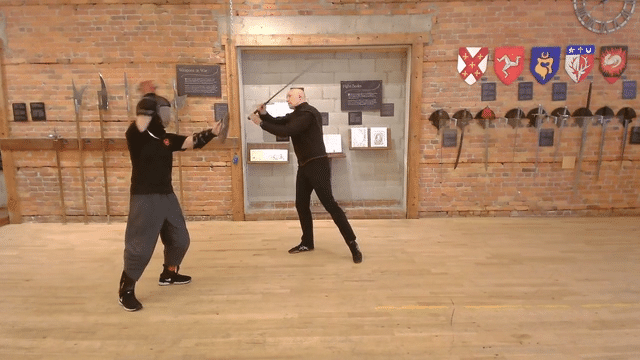 The right way is to link the sword and buckler (we use four unified positions to do this). You then use the sword as a ramp that channels all of the opponent's lines of attack into the shield. These combined shapes make it difficult for the opponent to deceive you at the outset, and extremely difficult to then escape once you've trapped them.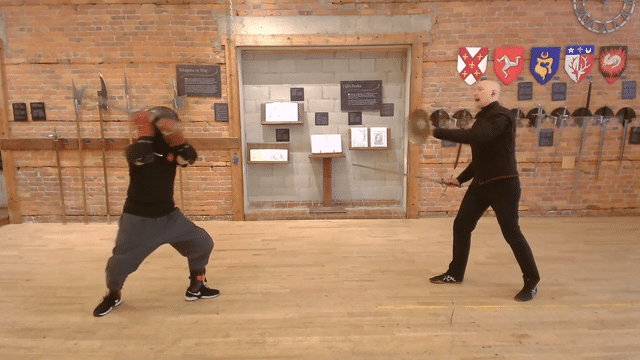 Never Chase the Sword
If you can get an unwary sword and buckler wielder to chase your attacks—with either their sword or their shield—you can easily keep them in obedience. Conversely, the smart fighter uses their weapons combined—you follow your opponent's attack and deception with only the point of the sword and the angle of the body. In this way you can keep their movements minimal and make the attacker do all the work.
Then once you have channeled the opponent's weapon into the buckler you can cut off the opponent's blows at the source — again no chasing their blade. Now block their hands!
Check out this free mini-lesson on DuelloTV, taken from the new Longsword vs Sword & Buckler course, to see these concepts in action. What new course? Well read on, my friend.
One Course to Improve All Your Weapon Skills
The new Longsword vs Sword & Buckler course includes more than 90 minutes of video content, 11 strategic lessons, solo and partnered exercises, comprehensive practice plans, and customized coaching.
This course will give you a clear strategic method for using the sidesword and buckler against all weapons, not just the longsword!
Learn how to:
Effectively join the sword and shield
Control the center
Put any opponent into obedience
Build an elegant and impenetrable defense
The course will guide you from the initial approach through to positions of control that will force your opponent into predictable action. Then it gives you a clear set of a responses for what to do next to safely strike (without double hit) and exit.
This course is built from more than 30 years of my combative experience combined with more than 10,000 hours teaching and coaching at the world's largest school of European Martial Arts, Academie Duello, in Vancouver BC. This stuff really works!
Course goes on sale Monday, February 28. Sign up to our free newsletter (homepage sidebar) or get a free DuelloTV membership for email news and a massive savings coupon.