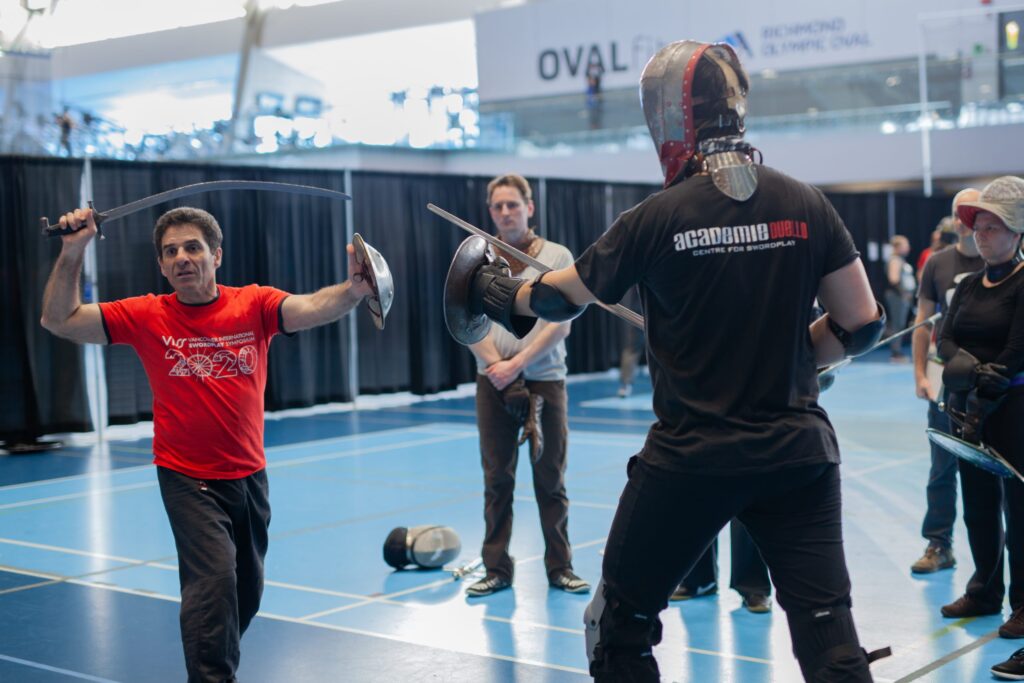 Long ago in a pre-pandemic world we held the 6th Vancouver International Swordplay Symposium (VISS). If you can, remember back to the beginning of March, oh so many weeks ago, when we could stand close enough to one another to cross swords, or tap feet and elbows in greeting. All the way back on the weekend of March 6th to 8th we hosted 25 instructors and over 100 students from around the world to an amazing inter-cultural martial arts event. This year we branched out from our western focus to create an event that brought Eastern and Western martial arts together to compare and collaborate. The event was a once in a lifetime experience and an amazing success.
Instructor Summit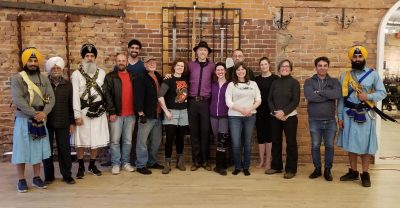 Two days prior to the main conference we held our 5th summit for instructors. This special pre-VISS event was an opportunity for instructors to gather for round-tables, panels, presentations, and workshops on topics that ranged from effective teaching strategies to a discussion of "true times" across martial arts and approaches. This was a brilliant, multicultural affair that brought out some amazing discussions and collaborations, all in the spirit of improving its attendees as teachers.
Intensives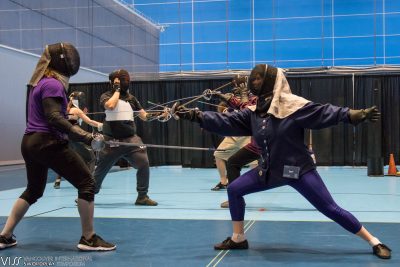 The heart of VISS is 5 pairs of multi-day workshops that each bring together two martial arts disciplines to be shared and explored together. For the first two days students learn from one instructor in the morning and the other in the afternoon and on the final day the two programs are brought together into a joint session. This year all of the sessions followed the East meets West theme and paired:
English sword and buckler with Sikh gatka (Stephen Hand and Jagjit Singh Nijjar)
Filipino stick and knife with Italian rapier and sabre (Mark Mikita and Dori Coblentz)
Persian sword and spear with Bolognese sword and partisan (Manouchehr Khorasani and Devon Boorman)
Spanish rapier with Chinese Tai Chi sword (Puck Curtis, Eric Myers, and Kelly Maclean)
German longsword with Japanese katana (Keith Farrell and Braun McAsh)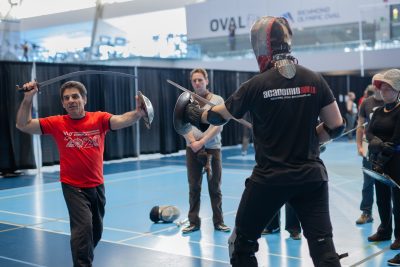 These tracks were exciting and fulfilling affairs that pushed the instructors and the students alike to examine their martial arts in new ways. The final day included a class where students moved back and forth between systems. This was done as a comparison of foundational principles, an exploration of how each art solves certain problems, or as a tactical session where the arts were put against one another with the teachers guiding students through decision making at each stage of the fight.
The level of mutual respect and camaraderie shown between instructors and students was humbling and beautiful. Martial arts can often be secretive and competitive. To have so many come together with the goal of expanding one another was so very special.
Workshops & Lectures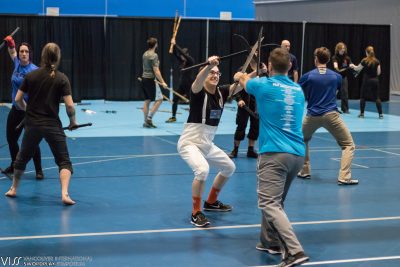 This year we had one additional track for intensives and workshops, and programming until at least 10pm each night. It was a packed-in event that challenged students to melt their minds with content. Our incredible roster of workshop instructors ran the gamut of Eastern and Western disciplines with instructors from Germany, Britain, India, Canada, and the USA and included Adrian Jones, Brent Matsuda, Brittany Reeves, Diana Matthess, James Reilly, Jennifer Landels, Kimberleigh Roseblade, Loki Jorgenson, Maija Soderholm, Mark Hollingshead, Marli Vlok, Matthew Howden, Mike Panian, and Tricia Dong. Topics included Italian and German dagger, self-defense, mindset, training psychology, tactical decision making, Indonesian two sword, Spanish sabre, Bagua, Randomflow, Italian rapier, and much more.
VISS 2020 was a diverse and rich experience. It was powerful to witness the differences in these various arts, not just technically but also in the teaching methodology, psychology, and cultural expression.
Gala
Every year on the Saturday night of VISS we host the gala, which this year many attendees affectionately called "sword prom." The gala was a social affair at Academie Duello that featured food, socializing, fun, games, and of course instructor demonstrations. Here are a few highlights in photos: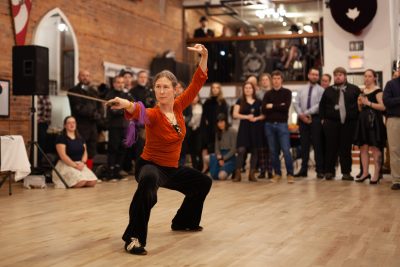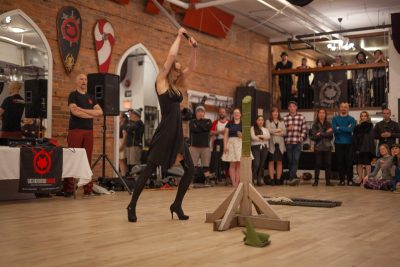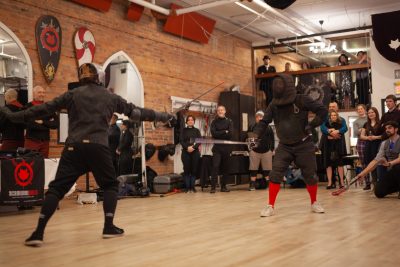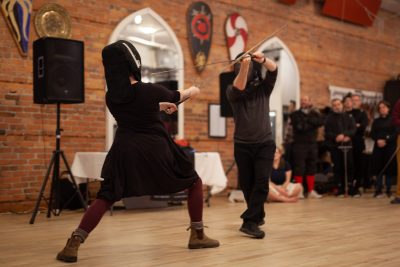 We hope to have some videos online in the near future.
Gatka & Shastar Vidyaa Demonstration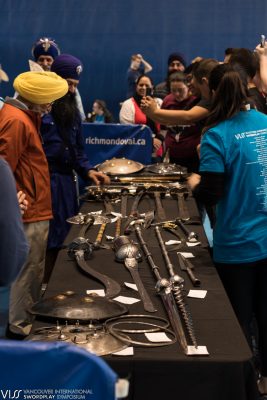 On Sunday VISS attendees got a special treat: a presentation by Jagjit Singh Nijjar and his students of the diversity of Gatka and Shastar Vidyaa. This began with an hour long show-and-tell of the diverse weapons from this Sikh tradition. There were curved and straight swords, punch daggers, polearms, maces and more. Then their entire crew put on an exhilarating display of their art using all the weapons they had shown as well as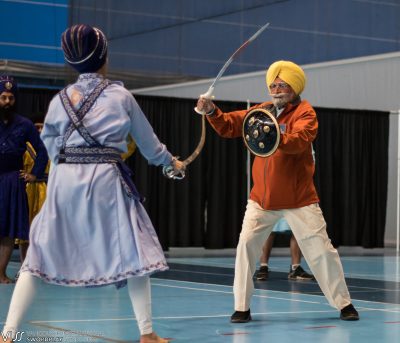 stick and buckler, and spinning nets traditionally used to deflect arrows. Their group was diverse with men and women and practitioners from their late teens to Grand Master Ranjit Singh who is in his late 80s. One on one duels, lightning fast weapon twirling, group combat, and one versus many engagements, were all part of the display. It was exciting and entertaining; certainly a highlight for many.


Diversity
This was one of the most diverse events we have hosted. It was an honour that at the closing ceremony of the event, that coincided with International Women's Day (March 8th), we were able to proudly acknowledge the 9 women instructors that filled a significant chunk of our roster. It was also an honour to have so many different cultures represented both martially and ethnically. The East meets West theme was world-expanding in so many ways. I only hope that we can maintain some of that expansive feeling throughout this contracting time.



Special thanks to Shanee Nishry for her collaboration in putting together this great roster and to Jaclyn Ruth for chairing this year's event.
Thank you to all the instructors who made this event so incredibly special. Thank you to the incredible board team and to all of our volunteers who made it possible. And finally thanks to all of our attendees who came from all over the world before so many borders were shut. It was a tremendous gift to have you all in Vancouver. We hope to see you all again at the next VISS in 2022.
Devon Boorman
Academie Duello
VISS Events Coordinator