Last week I was an instructor and director (referee) at the South East Renaissance Fencing Open (SERFO) in Atlanta, Georgia. This excellent event was put on by Keith Cotter-Reilly of the Atlanta Freifechters and David Coblentz of Decatur School of Arms and their respective crews. This is definitely one of the smoother and more professionally run events in North America, which is quite a feat as they run it essentially on a shoe string to keep it really affordable for attendees (1/3 to 1/4 of the cost of other similar events).
Though SERFO includes sidesword, longsword, rapier, and wrestling in its lineup of tournaments, there is quite a large emphasis on rapier with three events in total focused on that weapon. In addition I was asked to teach two workshops focused on rapier and dagger. The first, an advanced workshop on deceptive fighting for defeating the rapier and dagger, and the second, on how to effectively unify the rapier and dagger.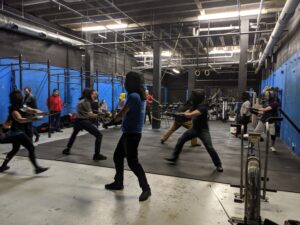 I was impressed in both workshops with the amount of base knowledge of blade control (finding/gaining/taking the opponent's sword) in the group. In even the recent past it would have been difficult for me to move forward to more advanced topics and assume this knowledge. With this group the level of knowledge was much higher and we were able to get to some fairly advanced topics in both workshops while keeping the involvement of a bulk of the group all the way through. Kudos to everyone for their hard work and for being such excellent students.
You can check out a short video clip from my second workshop here.
For those who attended (or wish they had attended) who want a recap on what was covered, you can find many lessons on these subjects in Duello.TV's Rapier and Dagger course (plus Offhand I and Offhand II as foundations for any secondary).
A Few Highlights
Watching David Rowe, of Virginia Academy of Fencing, in the Longsword finals. I loved how David read his opponents, stayed precise and calm, and forced his opponent's into his own game—a game that was clean and well put together. People need to start working on protecting their offsides and their low lines!
The finals of the Franco-Beligian tournament were superbly fought by Alex Laslavic, Keith Hamm, Kevin Murakoshi, and David Coblentz. I enjoy the requirements of this format. One person acts as the "king" who holds the field against all others until they are struck. When you strike the king you replace them. You get 3 lives and you lose one each time you are struck by the king or when you are the king and someone takes you out (except for the first strike on the first king). The fighting continues until all but one have lost their last life. The interesting part is that the king has a restricted target area. That target area is defined by the first person to land a hit on the king. The place of their strike defines the radius of the target area with the centre being the right side of the chest (for ride handed sword wielders) or the left side. So if the king is struck in the belly, then you define a circle with its centre at the breast and the radius encompassing the belly and in this case most of the arms, the torso, and head. When the king is struck outside of this target area, it is ignored, when they are struck inside of the target area they are replaced and the target area narrows for the next king based on the new target. The target can narrow until only the centre of the right/left breast is the only target. So the format rewards precision.
Directing, judging, and teaming up with Mackenzie, Dori, and Stacey Skaggs. Directing and judging are really demanding and largely thankless. I think everyone who judged and directed at this event did a really noble job and put it a superb effort. Kudos all.
The hospitality of David and Dori. Thanks for being such excellent hosts! A special highlight for me beyond all the great fencing conversations was visiting the puppetry museum in Atlanta the day before the event. Muppets and Dark Crystal can't go wrong.
Fencing with Kevin and David on Monday morning. Such a pleasure to match wits with some of the most excellent fencers about. If you get a chance to meet and fence with these two, make it happen.
This was a wonderful event with so many excellent practitioners, competitors, and teachers. Thanks everyone for making it such a wonderful time for me.
My next event is Capitol Clash in Washington, DC. After that is the Vancouver International Swordplay Symposium March 6–8, 2020; the theme this year is East Meets West (it's going to be amazing!)
Devon