This past weekend I had the special honour of seeing one of my senior students, Matheus Olmedo, elevated to the rank of Provost (the fourth level, just before Master). I wrote about what was involved in this grueling two-day ordeal in last week's post. It was a superb thing to be a part of, along with my fellow examiners Maestros Greg Mele and Sean Hayes.
In the coming weeks I will be compiling video and examination results and will post a more thorough report. For the moment I wanted to share a preliminary summary of the results.
Private Examination Results
The private examination involved approximately seven hours of technical demonstrations, rigorous testing on fencing theory, teaching methodology, scholarship defence, and pedagogical understanding. Matheus comported himself very well. A particular highlight for me was his capacity to demonstrate a complex fencing action that was 7-9 moves deep after only a single hearing.
Matheus demonstrated a solid understanding of
how to bring a student from the apprentice level into intermediate and advanced study
how to meet learning challenges from plateaus to bio-mechanical limitations
theory, technique, and mechanics, their place within historical traditions, as well as modern tactical and strategic considerations.
There are certainly areas we challenged him and we were very pleased that he brought a notebook to his examination upon which he vigorously scribbled down several "aha" moments he had during the day.
An Exemplary Public Performance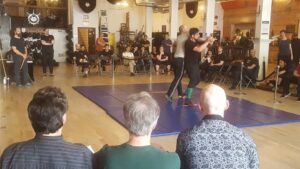 The day following the private examination began with a two-hour demonstration of technical skill at the longsword, sidesword alone and with buckler, rapier and secondaries, spear, and at unarmed and dagger. Though he is a giant of a man he not only demonstrated his capacity to use his own size to advantage but an exceptional grace and technical repertoire that was not just reliant on brute strength.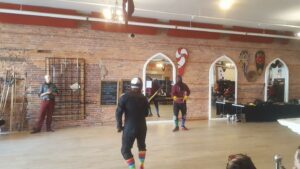 In the two-hour combative portion that followed he showed a solid strategic approach to the three weapon combinations he was required to fight with (longsword, sidesword & buckler, and rapier & dagger). Not only did he approach his various opponents in thoughtful and decisive fashion, he had a broader strategic approach that involved managing his overall energy level for the entire length of the ordeal. He saved energy where he could, allowing opponent's to come to him, taking time when time could be taken, then was able to act with immediacy when a particular opponent required it.
His percentage of wins over losses was well over 90 percent. Congratulations Matheus on a fiercesome and beautiful display!
Facebook Livestream and Other Video

We livestreamed the whole affair, unfortunately our Internet was rather spotty. You can see it on our Facebook page. We have much higher quality video captured and will make the public examination video available as part of our more complete report. There are also lots of other photos and video clips available on the Facebook page as well. We had viewers from across Canada and the US, as well as Italy, Australia, and Brazil!
If anyone has any video from the event, please send it our way so we can keep it for documentary purposes.
From There To Here
Matheus shared with all of us at the after-celebration that he had taken his first class at Academie Duello on that exact day seven years earlier. Since that time he has been at the school nearly five days a week, every week. It takes a lot of dedication to gain excellence in something as broad and rich as the art of Armizare we practice. He has put in a tremendous amount of work as a student and a teacher and we were all proud to see him go the distance.
Now the training begins for his Master level! 🙂
Some Acknowledgements
Thank you to Maestro Gregory Mele of the IAS and Chicago Swordplay Guild, and Maestro Sean Hayes of the IAS and Northwest Fencing Academy for their support and rigorous testing as part of our examining board. Thank you to the Provosts of the school, Roland Cooper, Clinton Fernandes, Greg Reimer, and Erik Hayden for their support throughout this journey and at the examination. Thank to special guest Paul McCann for his help as a challenger within the demonstration section of the exam. And finally thank you to all of the volunteers who helped make the event run smoothly and all of the members of our school and community who came out both in person and online to support and challenge Matheus in this grand affair!
Arte, Ardore, Onore!
Devon Boorman
Maestro d'Armi
Academie Duello